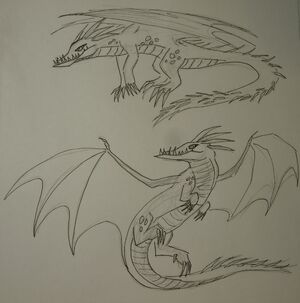 Hello, I am Aniju. I was formed the Head Administrator here however I am not that active here. Please contract LightlessFan4ever62  ​​​​​​, Othiel or  Crystal Fury Hofferson with any questions, concerns or anything else you may need. 
Pronounce: They/Them
Like most people, I adore dragons. I watched the movie, hadn't realized there's a book series to this. I was finally able to start watching the TV series and I am to say I am impressed with it. I just started to make How To Train Your Dragon slyted dragons for some or my long-term characters so I thought I join this wikia and share them with the people.
Now a little about me. First off, I am a Meerkat Freak, I love meerkats, Meerkat Manor, The Kalahari Meerkat Project, everything about them! And since I suck most of the time with coming up with names for characters, most often I'll just name them after a favorite Meerkat of mine. I work on Meerkat Wiki. I also love bats so most often my dragons will have bat wings, however I do love feathered wings. I noticed not too many if any HTTYD dragons have feathered wings or fur, so I'll be making some diffferent species.
I love animals, enjoy books such as Silverwing, Warriors and Watership Down. I do watch animes, but I am not a crazy fan girl. I am an artist so I will draw my own characters and make my own species of dragons at some point. Though I don't really like drawing pictures for other people because of the pressure to please. Now all I got to do is think of story for my characters to be in.
I work on wother wikias, most the meerkats ones as can be seen above. I work at Meerkat Wiki, Hunger Games Wiki(Writting fan-fictions), Bakugan, and a few role plays mostly. I may be off and on for this wikia depending on the How to Train your Dovah is playing. Oh yet I am a huge Skyrim fan as well. :P
Characters
A list of Aniju Aura's characters. Moving everything to my ToyHouse and and then probably deleting some of them once I am done
Frost Fall Inhabitants

Dragons
Dragon Species

Clans and Places
Community content is available under
CC-BY-SA
unless otherwise noted.