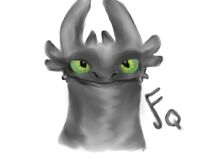 Hiya! I'm Fengmei Qin but please, call me Qinny if you'd like. I'm known far and wide as the Triple Stryke rider!( well not really I'm kinda forgettable) My Triple Stryke's name is Dusq and he is dark all over with red eyes! I rescued him from a dragon hunter cage alongside Hiccup and the gang! I also love to study new dragons species! I discovered a few myself, like Lightscales, Razorbacks, Keen Cutters, and many more!
I love drawing art and I am currently working on the development of an original comic book I call Flameborn! It's still in progress and will be hand drawn as digital art is way too time consuming for me. That's all folks. Oops Dusq is hungry for salmon again. If you have any questions, just leave a message here! Talk to ya guys later!
My Fanfictions
Wisp Nox the Changed
Joy the Nine
From Heaven to Hail(just and idea and not currently going to be written)
Ideas
From Heaven to Hail Summary: From Heaven to Hail will feature a main character called Hail. (I drew him a long time ago) It will be talking about how a tyrant villain enslaves Dracolia with their evil schemes, and the horrifying experiments they put onto the Draconians.(Draconians are very similar to humans, except they were much more muscular, taller, and had better defenses. They evolved alongside dragons, so it explained why they're so powerful in raw strength. I will make a page for them later)
Hail is actually a hybrid created with a human and a Draconian. The villain will be using him to help them achieve what they want. Basically, Hail is told that he was created as a monster, and that nobody cares for him, so that he can only obey orders from others.
This fanfic is actually a bunch of fan fic ahead, cuz there are more riders I plan on writing for, but so far, I found Hail's story most interesting.
Joy the Nine: Joy the nine takes place in a dystopian world where it is ruled by tyrants who over abuse their power. They have gained power through the war, and the original people have lost. The tyrants rulers want to show their power, and make the new people fear. They keep these people in small villages that are enclosed and guarded. No one is allowed to escape. Every month, nine people will be selected from a village. They will then be killed infront of everyone, so that the evil tyrants can show off their power over them. They are like sheep caged in a pen, the world seems drab and grey.
Miss Monomai: A story that features a young lady named Tamono Kuromiya who is tasked to hunt down an infamous dragon that terrorizes her village.
Brother.Lightning.Thunder: A story focusing on a boy named Sunn Golding, who is born in an underground city with dragons. He has a bad relationship with his brother, and throughout his story, he seeks to correct himself. The government in this story is corrupt and crime rates are sky high. Will Sunn be able to make it through?
My favorite pages
Add links to your favorite pages on the wiki here!
Favorite page #2
Favorite page #3
Community content is available under
CC-BY-SA
unless otherwise noted.